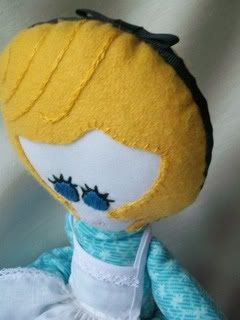 I am going through a time of reminicing. Maybe it is because my kiddos are getting older, but all I know is that I have spent a lot of time remembering the way things were when I was young. One memory of my childhood was my topsy-turvey doll. I played with it until it literally fell to pieces. It was little red riding hood, grandma, and the big bad wolf. Oh how I LOVED that doll. So, when I was chatting with Madyrose about the doll, she looked at me, puzzled. Then requested that I make her one so she could see for herself. I started with Alice and the Queen of Hearts, then Cinderella. I am not sure what doll will be next, but I LOVE making them.

My boys have an interesting teenage take. One thinks that it might influence little ones to look up people's skirts. I didn't think about that, but the other son's suggestion to make a doll giving birth is NOT going to happen. Oui Ve! Love my boys!!
The patterns are almost complete and will be on Etsy when all is said and done! Each pattern will be a different character combination, but with some minor tweeks, you could make it into anything that you like.